In America  si definisce Black Friday è negli Stati Uniti il primo venerdì successivo al Thanksgiving Day (Giorno del Ringraziamento), e tradizionalmente dà inizio alla stagione dello shopping natalizio.
Su Wikipedia leggiamo che:
Si tratta di una festa non ufficiale che tuttavia assume una grande importanza sotto l'aspetto commerciale poichè costituisce un valido indicatore sia sulla predisposizione agli acquisti sia indirettamete sulla capacità di spesa dei consumatori americani tanto da essere attentamente osservato e atteso dagli analisti finanziari e dagli ambienti di borsistici americani e internazionali.

Le grandi catene di commerciali offrono in questa occasione notevoli ed eccezionali promozioni al fine di incrementare le vendite.

Il termine Black Friday è nato a Philadelphia e deriva il nome dal pesante e congestionato traffico stradale che si sviluppa, per l'occasione, in quel giorno.
A Gioorgi.com abbiamo quindi provato a chiederci che cosa sarebbe successo il Blakc Friday, controllando la cronaca il giorno successivo a tale data.
Leggiamo su Forbes, a proposito del Black Friday:
[…]
The National Retail Federation (NRF) says the number of shoppers either in stores or accessing online retailers, from Black Friday through Sunday, was up 17% versus last year and that the average amount spent was up 7.2%. According to the NRF, shoppers were busy buying clothes and electronics. Meanwhile, ShopperTrak, which monitors sales at shopping centers and malls around the country, says Black Friday sales were up 3% versus last year
[…]
Anche se alcuni giornalisti tendono a essere meno ottimisti, si osserva come l'economia reale ha avuto ragione di quella finanziaria, almeno per l'evento Black Friday.
E' passata una settimana, ed i giornali ci informano  che la BCE ha nuovamente abbassato il tasso di sconto. Abbiamo fatto un pò di fatica a trovare un grafico che visualizzasse la situazione, ma alla fine ci siamo riusciti: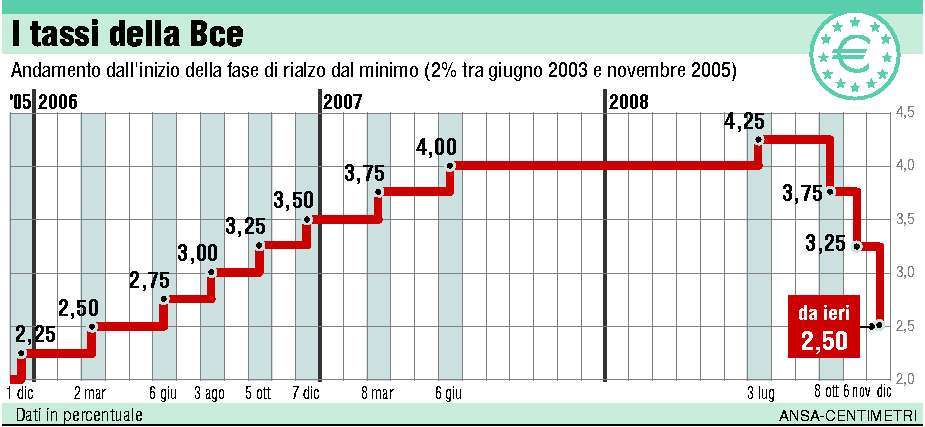 Come si vede siamo tornati ai livelli del 2006.
C'è parecchia pression finanziaria, ma se i consumi non si deprimono troppo, potremmo far si che la crisi pneumatica creata dai mutui subprime si smaterializzi lentamente.