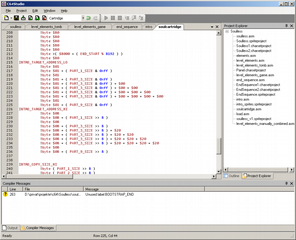 Ok this is a bit embarassing!
Even in 2019, there is a IDE for C/64 which is still mantained!
C64 Studio is a full .NET IDE which can connect to [Win]Vice for debugging.
It seems Deutsche guys are very strong on C/64 Developmenet on these days….
11.03.2019 – C64 Studio 6.0
C64Studio 6.0 is released:

Add: Graphic screen editor paint tools
Add: BASIC editor 80 char pos line
Add: Allow changing of start address for BASIC
Add: Save to File Manager
Add: Real version number to properties/details
Fix: Crash when deleting folder in Solution Explorer
Add: Prepare file opened via context menu on !source PO
Fix: Crash when unknown character encountered
Fix: caret color detection
Add: Support for alternative Debug.Log viewers
Fix: Different post build commands for Win/Unix
Fix: Resource leak in Hex sprite viewer
Fix: Crash in sprite viewer
Fix: Crash in macro viewer without active project
Add: Support for GTK Vice' console window
Fix: BASIC renumber bug (first token after line number went missing)
Add: Opening of base libs via context menu
Fix: Default graphic screen start size 320×200
Add: Debug Views (memory/register) color adjustable
Source: Georg Rottensteiner – GR Games
C/64 Studio
Stability

Tools Provided

Assembly syntax compatibility
Summary
C/64 Studio provide an IDE to develop mixed asm-basic stuff.
On the dark side, the assembler uses a more custom syntax for directive(i.e. !word instead of .word) and when we tried to search and replace a bunch of directive, we got a C# Crash Window.
We have an hard time converting this article with little luck.
The Help provide also a rich C/64 Reference, so we suggest to give it a try!