Expo 2015 will close at the end of October. Because I enjoied it a lot, I'd like to give you some advice on Expo, Milan and Italy.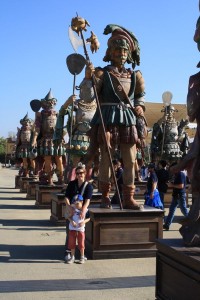 First of all, buy ticket on line and grab a map once in. The Mobile application suck a bit, so I preferred a paper map (I am too much analogic?).
Second, mineral water inside the Expo is sold at 8€/liter. You have one simple solution: find out some water dispenser (they are free!).
Third, eating something is a risky business: for 6 meat ball and a steak I ended up with 54€ bill. A bit too much for a pub-style service. So make a stop at the Coop Future Market: you will enjoy a futuristic supermarket with some decent prices.
Not only Expo: Milan has a big castle and a huge selection of Museums: Brera for pictures, Real palace for international exhibition (two-three at once) and much more. Be sure to look at tourist point after expo exloration!
Also, Como Lake is very close to Milan: it is still good in September, and a nice rest for all your family.
Hurry up and came to expo: you will love it!