Ciao bimbo mio, oggi non parliamo di te.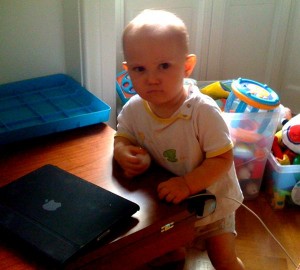 Parliamo di Steve Jobs, che  si è spento ieri, all'età di 56 anni. Steve è il creatore di tutte quelle cose con il logo di una mela che vedi in casa, e no, la Apple non è una catena di  fruttivendoli internazionali.
La prima volta che incontrai i prodotti Apple, ammetto che non ne ero un grande fan. Capitò quando iniziai l'università nel 1993.
Gli Apple Machintosh erano costosi, e composti di parti proprietarie in ogni dove: dagli attacchi dei mouse alle schede di rete. Però erano sempre innovativi.
Steve è stato un grande visionario, poiché ha saputo creare prodotti reinventando idee spesso andate male. Quando Apple introdusse l'iPhone, nemmeno io pensavo che gli schermi touch avrebbero avuto successo, ora ogni cellulare di fascia alta è touch.
Se i floppy sono scomparsi, lo dobbiamo al fatto che la apple iniziò a produrre PC senza floppy.
Steve è stato un business man di successo anche se probabilmente la Microsoft di Bill Gates è stata per lungo tempo più abile, plastica e versatile nel creare un ecosistema intorno a sé.
Ma Microsoft non è mai stata innovativa, anzi uno dei suoi cavalli di battaglia è che "arrivano secondi, quado il mercato per un prodotto c'è già, ed entrano nella fascia dei clienti di massa".
Apple è stato sempre un brand per early adopter o per una nicchia di mercato (web designer), almeno fino a quando il successo di iPod & iPhone non ha massificato quel tipo di mercato.
Steve per me è stato colui che osa, ma anche che sa creare un mercato, come quando decise di vendere musica digitale su Internet.
Si dice anche che fosse una persona abbastanza difficile con cui trattare, ma ora forse riusciremo ad avere una biografia equidistante.
Su internet, tra le tante riflessioni su Steve Jobs ne ho trovata una originale…
[…]
Steve Jobs did not create products. He created an organization that predictably and reliably created emotionally resonant products.
Steve Jobs was not charismatic. He spoke from the heart compelling others to follow him.
Steve Jobs was not a gifted orator. He spoke plainly.
Steve Jobs was not a magician. He practiced, a lot.
He had taste.
He was curious.
He was patient.
He was foolish.
He was hungry.
Anche ora i prodotti Apple negano la flessibilità tipica del mercato mainstream, e questa intenzionale chiusura è alla base del successo (e delle critiche) del Job-way-of-Life.
Nel bene e nel male, Steve ci ha portato un pezzettino di futuro, e per questo lo ringraziamo.
PS E no, figlio mio, metti giù l'iPhone di .. (lo lancia per terra) papà…appunto…